Rearview Camera
About Your Rearview Camera
Models without navigation system
The audio/information screen can display your vehicle's rear view. The display automatically changes to a rear view when the shift lever is moved to

.
Rearview Camera Display Area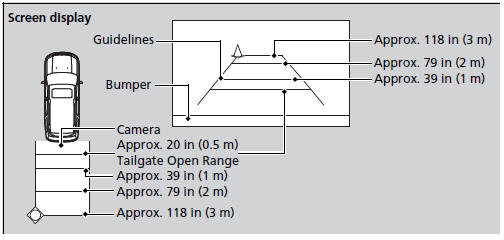 About Your Rearview Camera
The rear camera view is restricted. You cannot see the corner ends of the bumper or what is underneath the bumper. Its unique lens also makes objects appear closer or farther than they actually are. Visually confirm that it is safe to drive before backing up. Certain conditions (such as weather, lighting, and high temperatures) may also restrict the rear view. Do not rely on the rearview display which does not give you all information about conditions at the back of your vehicle. To turn the guide lines on or off, press and hold the RETURN button for about three seconds. If you turn the guide lines off, they remain off until you turn them back on.
Rotate

to adjust the brightness of the rearview camera.
If the camera lens is covered with dirt or moisture, use a soft, moist cloth to keep the lens clean and free of debris.
See also:
Playing AM/FM Radio
You can control the AM/FM radio using voice commands. The ST indicator appears on the display indicating stereo FM broadcasts. Stereo reproduction in AM is not available. Switching the Audi ...
Maximum Load Limit.
The maximum load for your vehicle is 1,340 lbs (608 kg). See Tire and Loading Information label attached to the driver's doorjamb. This figure includes the total weight of all occupants, cargo ...
Devices that Emit Radio Waves
The following products and systems on your vehicle emit radio waves when in operation. Each of the above complies with the appropriate requirements or the required standards of FCC (Federal Commun ...