Reserve Tank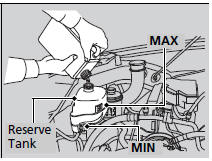 1. Check the amount of coolant in the reserve tank.
2. If the coolant level is below the MIN mark, add the specified coolant until it reaches the MAX mark.
3. Inspect the cooling system for leaks.
Engine Coolant
NOTICE
If temperatures consistently below -22°F (-30°C) are expected, the coolant mixture should be changed to a higher concentration. Consult a dealer for more information. If Honda antifreeze/coolant is not available, you may use another major brand non-silicate coolant as a temporary replacement. Check that it is a high quality coolant recommended for aluminum engines. Continued use of any non-Honda coolant can result in corrosion, causing the cooling system to malfunction or fail. Have the cooling system flushed and refilled with Honda antifreeze/coolant as soon as possible. Do not add rust inhibitors or other additives to your vehicle's coolant system. They may not be compatible with the coolant or with the engine components.
See also:
Defaulting All the Settings
Reset all the menu and customized settings as the factory defaults. 1. Press the SETTINGS button. 2. Rotate to select System Settings, then press . 3. Rotate to select Other, then press . 4 ...
Lane Departure Warning (LDW)
Alerts you when the system detects a possibility of your vehicle unintentionally crossing over left or right side lane markings. Important Safety Reminder Like all assistance systems, LDW has lim ...
Adjusting the Shoulder Anchor
The front seats have adjustable shoulder anchors to accommodate taller and shorter occupants. 1.Move the anchor up and down while holding the release button. 2.Position the anchor so that the bel ...