Wear Indicators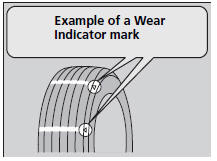 The groove where the wear indicator is located is 1/16 inch (1.6 mm) shallower than elsewhere on the tire. If the tread has worn so that the indicator is exposed, replace the tire. Worn out tires have poor traction on wet roads.
See also:
Emissions Controls
The burning of gasoline in your vehicle's engine produces several byproducts. Some of these are carbon monoxide (CO), oxides of nitrogen (NOx), and hydrocarbons (HC). Gasoline evaporating from t ...
Cleaning the Seat Belts
Dirt build-up in the loops of the seat belt anchors can cause the belts to retract slowly. Wipe the insides of the loops with a clean cloth dampened in mild soap and warm water or isopropyl alco ...
Playing XM® Radio
In the channel mode, all available channels are selectable. In the category mode, you can select a channel within a category (Jazz, Rock, Classical, etc.). There may be instances when XM® Radi ...