Wear Indicators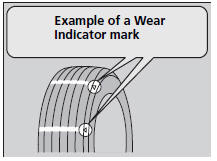 The groove where the wear indicator is located is 1/16 inch (1.6 mm) shallower than elsewhere on the tire. If the tread has worn so that the indicator is exposed, replace the tire. Worn out tires have poor traction on wet roads.
See also:
Specifications
Vehicle Specifications *1: 2WD models *2: 4WD models *3: LX models with 4WD *4: Except LX models with 4WD Light Bulbs *5: Not available on all models *3: U.S. LX *4: Except U.S. LX ...
Power Steering Fluid Check
4-cylinder models Specified fluid: Honda Power Steering Fluid We recommend that you check the power steering fluid level every time you refuel. Check when the engine is not running. 1. Look ...
Authorized Manuals
■ Service Express For electronic copies of service publications, you can purchase a subscription to Service Express. Visit www.techinfo.honda.com for pricing and options. ■ For U.S. O ...