Options During a Call
The following options are available during a call.
Mute: Mute your voice. Transfer: Transfer a call from HFL to your phone. Dial Tones: Send numbers during a call. This is useful when you call an automated phone system.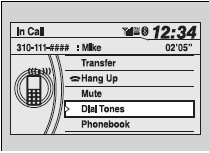 1. To view the available options, press the PHONE button.
2. Rotate

to select the option, then press

.
Options During a Call
Dial Tones: Available on some phones.
See also:
Recommended Engine Oil
• Genuine Honda Motor Oil • Premium-grade 0W-20 detergent oil with an API Certification Seal on the container. Oil is a major contributor to your engine's performance and longevity. If y ...
Seat Belt Inspection
Regularly check the condition of your seat belts as follows: • Pull each belt out fully, and look for frays, cuts, burns, and wear. • Check that the latches work smoothly and the belts retract ...
Rear License Plate Light Bulb
When replacing, use the following bulb. Rear License Plate Light: 5 W 1. Push the left edge of the lens to the right and pull out the licence light assembly. 2. Push the tabs to remove the len ...