Authorized Manuals
For U.S. Owners:
The publications listed below can be purchased from Helm Incorporated. You can order a manual by phone at (800) 782-4356 (credit card orders only), or online at www.helminc.com.
Make an inquiry to Helm Inc. at (800) 782-4356 if you are interested in ordering other models' or other years' manuals.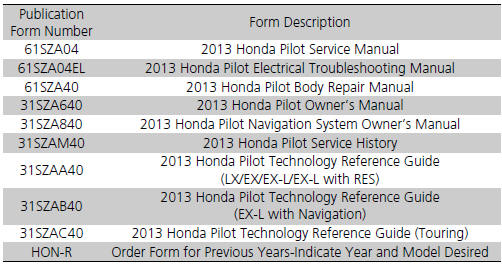 Authorized Manuals
Service Manual: Covers maintenance and recommended procedures for repair to engine and chassis components. It is written for the journeyman technician, but it is simple enough for most mechanically inclined owners to understand.
Electrical Troubleshooting Manual: Complements the Service Manual by providing indepth troubleshooting information for each electrical circuit in your vehicle.
Body Repair Manual: Describes the procedures involved in the replacement of damaged body parts.
For Canadian Owners: Si vous avez besoin d'un Manuel du Conducteur en français, veuillez demander à votre concessionnaire de commander le numéro de pièce 33SZAC40
See also:
Charging System Indicator
If the charging system indicator comes on brightly when the engine is running, the battery is not being charged. Immediately turn off all electrical accessories. Try not to use other electrically ...
Multi-View Rear Camera
Models with touch screen About Your Multi-View Rear Camera The audio/information screen can display your vehicle's rear view. The display automatically changes to the rear view when the shift l ...
Audio system without touch screen
To use the audio system function, the ignition switch must be in ACCESSORY or ON . Use the selector knob or MENU button to access some audio functions. Press to switch between the normal ...